You added
Blank Forms Joseph Jarman: Black Case Volume I and II: Return From Exile
to your shopping cart.
Blank Forms Joseph Jarman: Black Case Volume I and II: Return From Exile
Close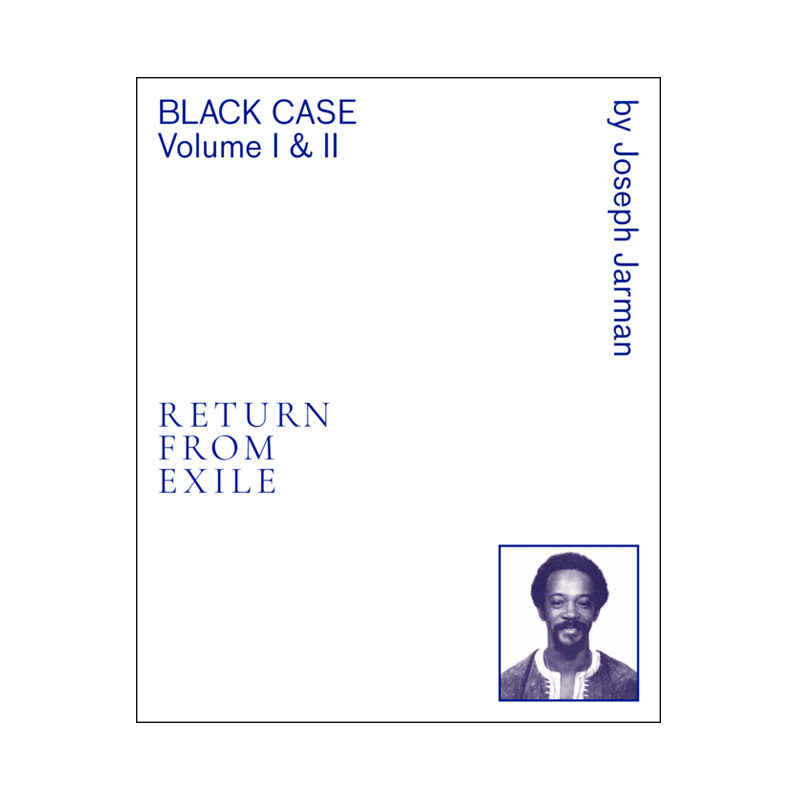 With a new preface by Thulani Davis and an introduction by Brent Hayes Edwards

142 pages

8.25 x 6.75 inches

Paperback, perfect bound edition of 2,000

Joseph Jarman (1937 - 2019) was a saxophonist and multi-instrumentalist best known as a founding member of trailblazing avant-garde jazz group Art Ensemble of Chicago. Jarman was responsible for the Art Ensemble's signature face paint and elaborate costumes as well as the pioneering theatrical and multimedia elements of their shamanistic performances, which could include dance, comedy, performance art, surreal pranks, and—notably—the recitation of Jarman's poetry.

In 1977, Art Ensemble of Chicago Publishing Co. published Jarman's Black Case Volume I and II: Return From Exile, a collection of writing conceived across America and Europe between 1960 and 1975. Comprised largely of Jarman's flowing, fiery free verse—influenced by Amus Mor, Henry Dumas, Thulani Davis, and Amiri Baraka—the book also features a manifesto for "GREAT BLACK MUSIC," notated songs, concert program notes, Jarman's photos, and impressions of a play by Muhal Richard Abrams, the founder of the Association for the Advancement of Creative Musicians of which Jarman was also an original member. Jarman writes poetry of personal revolutionary intent, aimed at routing his audience's consciousness towards growth and communication. He speaks with compassionate urgency of the struggles of growing up on Chicago's South Side, of racist police brutality and profound urban alienation, and of the responsibility he feels as a creative artist to nurture beauty and community through the heliocentric music that he considers the healing force of the universe. A practicing Buddhist and proponent of Aikido since a 1958 awakening saved him from the traumatic mental isolation of his time dropped by the US army into southeast Asia, Jarman sings praise for the self-awareness realization possible through the martial arts. With cosmic breath as its leitmotif, his poetry both encourages and embodies a complete relinquishing of ego. While some of the poems contained within Black Case have already been immortalized via performances on classic records by Jarman and Art Ensemble of Chicago, its republication in print form breathes new life into a forgotten document of the Black Arts Movement.

"Joseph Jarman, a musician of rare poetic gifts, was also a remarkable poet. Black Case, a lost treasure of the Black Arts Movement, combines protest against injustice with heart-breaking introspection and fierce commitment to the Great Black Music tradition to which Jarman contributed with gentle yet mighty force."

—Adam Shatz

"Joseph's recitation of 'Non-Cognitive Aspects of the City' (from Black Case) moved me to set the words of this poem for Baritone Voice and Orchestra and became part of the Art Ensemble of Chicago's standard repertoire. Joseph had a bold and passionate creative spirit. I feel privileged to have shared the stage with him."

—Roscoe Mitchell

"'Though in reality all the words are music themselves' is the reality to which all poetry aspires, whether in verse or prose, theory or story, criticism or craft. Joseph Jarman always knew that for black musicians, which is to say black speakers, exile is our public holiday. We live through that. We live through that. Black Case is all and everything in this regard. 'Whats to say,' he says, is that 'we sing because/we love you/because we/love you/because/we love/you.' We are loved beyond judgment by the music, he says, and we say thanks."

—Fred Moten
With a new preface by Thulani Davis and an introduction by Brent Hayes Edwards 142 pages8.25 x 6.75 inchesPaperback, perfect bound edition of 2,000Joseph Jarman (1937 - 2019) was a...
Questions
Have any questions? We're here to help!
is back-ordered. We will ship it separately in 10 to 15 days.