You added
Elektron Analog Four MKII
to your shopping cart.
Elektron Analog Four MKII
Close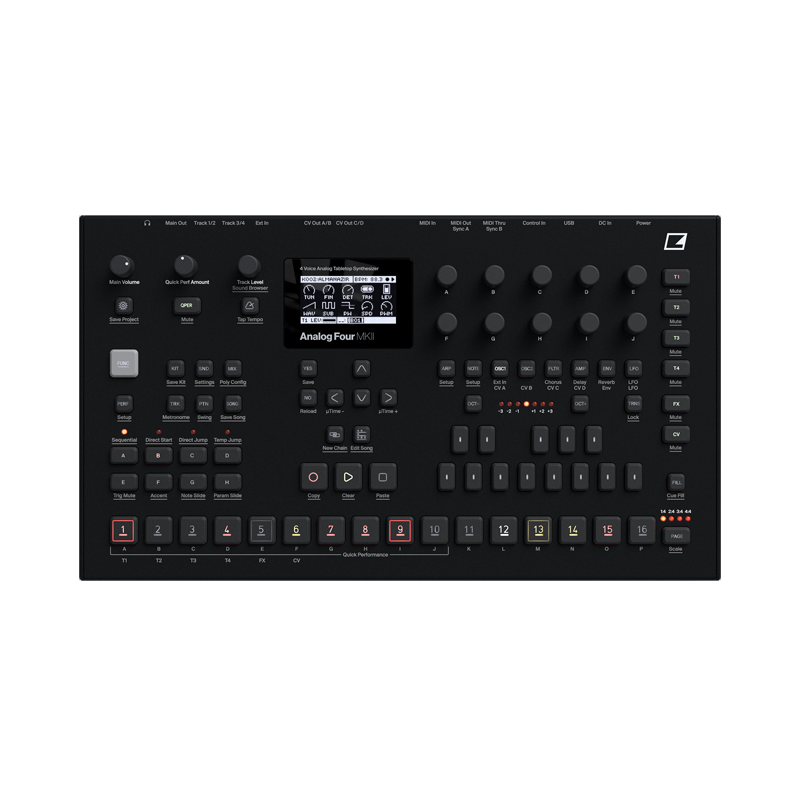 Four voice polyphonic analog tabletop synthesizer
Experience fantastic analog sound combined with razor-sharp digital accuracy and control. For studio sessions, bursts of inspiration, and heartfelt performances: the Analog Four MKII brings together the best of both worlds. The sound of worlds colliding.
Organic, steely, warm, cold, chaotic, precise, and all the shades in between. Mold unique analog basses, leads, drums, and whatever other sounds that can be dreamt up. Program them with precision, or design and redesign as you go. Sounds as vast as the most infinite of palettes.
From sounds to songs 
Four synth tracks and an FX track, each with an intuitive step-sequencer, let you easily create and layer melodies. Play back your composition and immediately reshape it. Change notes, alter sounds, add effects. Make it as glistening and airy or dark and dense as you desire. Add vibrant chorus, reverb, and delay at your leisure. Something beautiful will emerge.
Each synth track offers loads of sound crafting and modulation options. Two multi-waveform oscillators with one versatile sub-oscillator each for sound generation. Oscillator sync options, amplitude modulation, pulse-width modulation, spectral noise, vibrato – all that good stuff. A ladder filter and a resonant multimode filter to ensure precise sound sculpting. Add shape, and movement, through the two envelopes and two LFOs per track, each with a wide range of shapes, waveforms, and destinations. The modulation offers depth that may baffle you.
Modular control
Not only a splendid synthesizer – the Analog Four MKII can also make other gear sing. In addition to letting the sequencer tracks of your choice send MIDI out to external instruments, CV/Gate sequencing and DIN sync outputs let you control other analog gear. Make your modular or vintage synthesizer rig come truly alive.
Also, the individual audio outputs for each voice ensure this instrument fits just as snugly in a vintage analog studio recording session as in a modern digital one.
Playability focus 
Use the four voices monophonically or polyphonically with several routing options. From the mini-keyboard for quickly sketching musical ideas to the one-handed operation of pattern or sound changes, editing, and more, playability is always in focus. The super-crisp OLED display makes performing in the dark more convenient. Usability and lush sound crafting, like peas in a pod.
For power-tweaking: create eight performance macros (multi-parameter combinations of sound tweaks, effects, and more), ready to kick in simultaneously at the tweak of a knob. There's also a quick performance knob for instant access to one of the eight performance macros. One knob to rule them all.
Superior sequencing
The full-featured step sequencer lets you control both structure and sound. Simply press a step and tweak any parameter onto it for ultra-fast and detailed sequencing. Real-time record every twist and turn you make if you like, or build your composition one tonal nuance at a time. Add some controlled randomness and logic with the variety-friendly trig conditions. Build patterns from your sequence, then create a full-blown composition from your patterns using the neat song mode.
Inspiration dynamite
The Analog Four MKII comes chock-full of exceptional factory content to get you started. The likes of Richard Devine, Eraldo Bernocchi, Spit Mask, as well as the dedicated Elektron team from across the globe, have collected a fresh bank of patterns and kits to tap into – giving you access to a variety of awesome audio slices straight out of the box.
Four voice polyphonic analog tabletop synthesizerExperience fantastic analog sound combined with razor-sharp digital accuracy and control. For studio sessions, bursts of inspiration, and heartfelt performances: the Analog Four MKII brings...
Questions
Have any questions? We're here to help!
is back-ordered. We will ship it separately in 10 to 15 days.