You added
Moog Sound Studio: DFAM & Subharmonicon
to your shopping cart.
Moog Sound Studio: DFAM & Subharmonicon
Close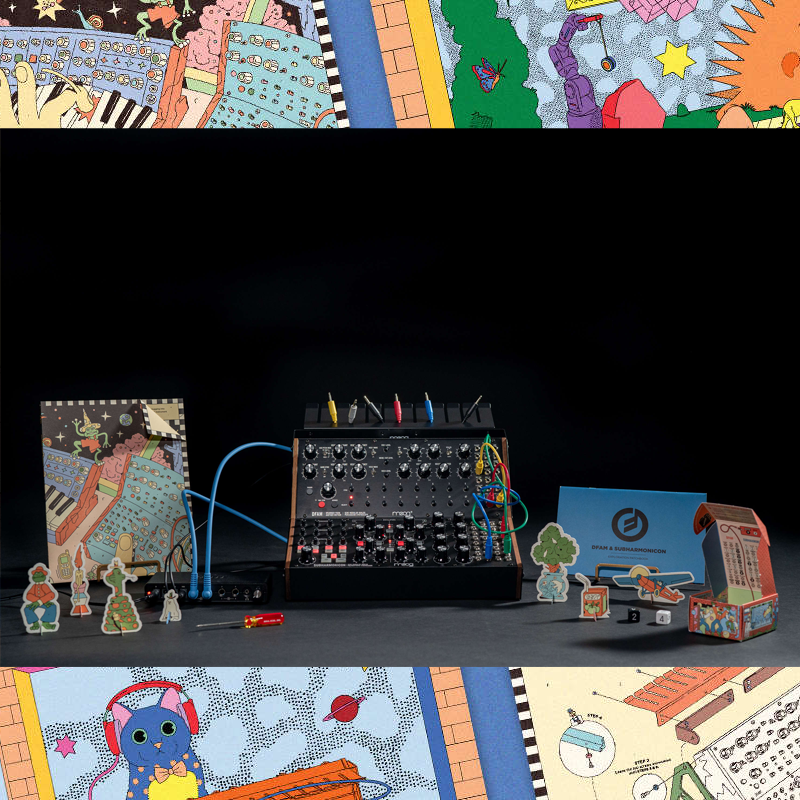 Moog Sound Studio is a complete analog synthesis studio in a box. All you need is a pair of headphones!

Ready to take the next step in your analog synthesis journey?
Moog Sound Studio is an all-inclusive package of semi-modular synthesizers and accessories created to provide users with all of the equipment, cables, accessories, creative inspiration, and educational tools needed to enter the world of analog synthesis for the first time or to continue to explore sound in an immersive new way. All you need is your own headphones or personal speaker, and you're ready to get started!

Moog's development of the complete sonic exploration station that is Moog Sound Studio is a direct response to years of feedback from the growing synthesizer community. The all-in-one solution for beginning or continuing a journey in professional sound design includes everything the creator needs for an immersive, self-guided experience from any home or studio.
Made to go together
Moog's Subharmonicon and DFAM synthesizers are a magical combination. Subharmonicon is a rich sonic kaleidoscope of 6-tone subharmonic chord shapes and polyrhythmic sequences, while DFAM presents an inspiring new approach to drum synthesis and rhythmic pattern creation. While each instrument is uniquely powerful alone, pairing the two together creates an experience that is greater than the sum of its parts. Patch them together to create new sounds, unlock novel behaviors, synchronize patterns, and explore endless sonic possibilities.

Everything you need
Along with a duo of semi-modular analog synthesizers, each Moog Sound Studio includes a personal stereo summing mixer with 3-way power distribution to provide flexible signal routing and power your entire system conveniently from a single power supply. Also included is a patch cable organizer, a series of guided exercises, exploration games, experimental patch sheets, imaginative studio art, and more to outfit your studio and take your synthesis skills to the next level. And of course, all of the cables and accessories needed to connect everything are included as well!

Engaging Visuals to Complement Your Journey in Sound
To bring this magical world of analog synthesizers to life visually, illustrators Jim Stoten (Mother-32 & DFAM) and Philip Lindeman (Subharmonicon & DFAM) designed custom artwork in the form of characters, posters, and other interactive objects that accompany each instrument setup. These materials were created to be constant sources of inspiration for users while exploring sound in a whole new creative environment.

Moog Sound Studio takes the magical environment and hands-on learning experience of Moog installations found at events around the world and presents them in a way that empowers you to explore synthesis with joy and confidence from the comfort of your own home or studio.

This is an exciting time to be a part of the growing synth community. The Moog Sound Studio is here to provide a meaningful electronic experience that informs, inspires, and nurtures synthesists at any point in the creative journey.
Moog Sound Studio is a complete analog synthesis studio in a box. All you need is a pair of headphones! Ready to take the next step in your analog synthesis...
Questions
Have any questions? We're here to help!
is back-ordered. We will ship it separately in 10 to 15 days.